BTE to Present at NoDig 2016 in Fort Worth, TX
Bennett Trenchless is pleased to announce that we will be presenting three papers at NASTT's annual No-Dig conference on March 20-24, 2016 in Fort Worth, Texas at the Gaylord Texan Convention Center.  On the afternoon of March 21, we will present paper MA-T4-01 which discusses a challenging 108-inch pipe ram project on the Northern California Coast.   Paper TM1-T2-02 will be presented the following morning which will describe an HDD installation of twin inverted siphons as part of the larger Trinity River Vision project for the City of Fort Worth.  BTE will also present paper WM-T1-02 on the morning of March 23 which discusses the design and construction of 1,200-feet of 36-inch gas pipeline under a major Interstate using HDD.
In addition to the technical papers being presented during the conference, BTE staff will also be serve as volunteer instructors on NASTT training courses before and after the conference.  On the morning of Su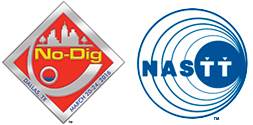 nday, March 20, BTE staff will serve as instructors for NASTT's Trenchless Technology Short Course – New Construction.  After the conference concludes on Wednesday, March 23 and Thursday March 24, BTE staff will serve as instructors for both NASTT's HDD Good Practices Guidelines Course, and NASTT's Pipe Bursting Good Practices Course.